David Peel: The Dope-Smokin' Pope of the New York City Hippies | Hip Quotient
Hello, ma'am. I'm working to clean up the neighborhood from parasites. Do you mind if I take a quick look around your house? I'm afraid you may have hippies.
If you're familiar with the darkly funny animated series "South Park," you know there's nothing that tubby 9-year-old Eric Cartman hates more than hippies. In the 2005 episode "Die Hippie, Die," he gallantly waddles from house to house with an exterminator tank, hell-bent on ridding the neighborhood of the bad-smelling, peace-preaching stoners. Well, in my small hometown in the late 1960s, we had but one authentic hippie, and we intended to keep him.
By the time the Age of Aquarius hit Pennsyltucky, it was already the Age of Libra. For years we stared at our cabinet TVs with envy at the scenes of flower-children burning draft cards in Chicago, marching for peace in D.C., and dancing in a hallucinogenic stupor in Golden Gate Park. Just when we'd nearly given up hope that we'd ever be hip, God answered our prayers and gave us something to break the monotony of our boring, bourgeois lives: a bearded, long-haired, blurry-eyed, sandaled dude whom the town elders affectionately called "The Dirty Hippie." So touched was he by this moniker that he actually painted the nom de freak on the side of his psychedelically embellished pickup truck. You bet your bippy! What a treat to see him whiz by — "Sunshine of your Love" and fragrant smoke wafting from his windows — as we walked home from school. "Hey look! It's the Dirty Hippie!" we'd cry out as we waved. I have no idea whether our token tokin' rebel embraced the make-love-not-war ideology of the times, but he looked like he stepped right out of central casting for "Easy Rider." And that was good enough for us. We didn't want any trouble-making pinko types, anyway. We weren't ready for our small hamlet to become infested with the city-bred rodent variety of hippie — like those personified by David Peel.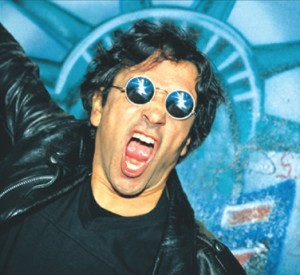 I was 12 years old, watching The David Frost show on TV after school, when I discovered Mr. Peel. As the veddy, veddy British talk show host introduced a musical number, I was delighted to see John Lennon on stage with an assortment of musicians I didn't recognize. But why was John (and the ubiquitous Yoko) standing in the back, banging away on a homemade stringed instrument, and not in the spotlight? Who was the wire-haired dude with Lennonesque granny glasses shouting into the microphone? And why was he singing funny lyrics to Merle Haggard's "Okie from Muskogee" song? This was too much!
I'm proud to be a New York City hippie / I'm proud of dirty feet and dirty hair.
I'm proud of living with the cock-a-roaches / I'm proud of living in a garbage can.
We want to warn you squares and all you rednecks: If you hate the hippies from New York,
We'll unify the hippies from the country /We'll fight until the South becomes the North.
Source: David Peel: The Dope-Smokin' Pope of the New York City Hippies | Hip Quotient