WE'RE FUCKED!!! – Global carbon dioxide in atmosphere passes milestone level as; The Rich Get Richer and The Politicians Play Games
By Damian Carrington,guardian.co.uk, – Climate warming greenhouse gas reaches 400 parts per million for the first time in human history
For the first time in human history, the concentration of climate-warming carbon dioxide in the atmosphere has passed the milestone level of 400 parts per million (ppm). The last time so much greenhouse gas was in the air was several million years ago, when the Arctic was ice-free, savannah spread across the Sahara desert and sea level was up to 40 metres higher than today.
These conditions are expected to return in time, with devastating consequences for civilisation, unless emissions of CO2 from the burning of coal, gas and oil are rapidly curtailed. But despite increasingly severe warnings from scientists and a major economic recession, global emissions have continued to soar unchecked.
"It is symbolic, a point to pause and think about where we have been and where we are going," said Professor Ralph Keeling, who oversees the measurements on a Hawaian volcano, which were begun by his father in 1958. "It's like turning 50: it's a wake up to what has been building up in front of us all along."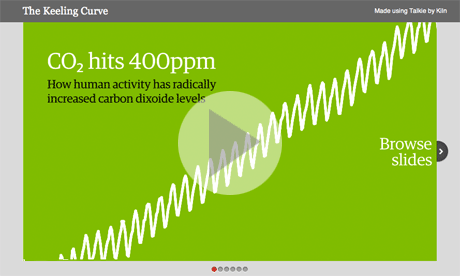 Climate-warming gas in atmosphere passes 400ppm milestone – interactive
"The passing of this milestone is a significant reminder of the rapid rate at which – and the extent to which – we have increased the concentration of greenhouse gases in the atmosphere," said Prof Rajendra Pachauri, chair of the Intergovernmental Panel on Climate Change, which serves as science adviser to the world's governments. "At the beginning of industrialisation the concentration of CO2 was just 280ppm. We must hope that the world crossing this milestone will bring about awareness of the scientific reality of climate change and how human society should deal with the challenge."
The world's governments have agreed to keep the rise in global average temperature, which have already risen by over 1C, to 2C, the level beyond which catastrophic warming is thought to become unstoppable. But the International Energy Agency warned in 2012 that on current emissions trends the world will see 6C of warming, a level scientists warn would lead to chaos. With no slowing of emissions seen to date, there is already mounting pressure on the UN summit in Paris in 2015, which is the deadline set to settle a binding international treaty to curb emissions.
Edward Davey, the UK's energy and climate change secretary, said: "This isn't just a symbolic milestone, it's yet another piece of clear scientific evidence of the effect human activity is having on our planet. I've made clear I will not let up on efforts to secure the legally binding deal the world needs by 2015 to avoid the worst effects of climate change."
Two CO2 monitoring stations high on the Hawaiian volcano of Mauna Loa are run by the US National Oceanic and Atmospheric Administration and the Scripps Institution of Oceanography and provide the global benchmark measurement. Data released on Friday shows the daily average has passed 400ppm for the first time in its half century of recording. The level peaks in May each year as the CO2 released by decaying vegetation is taken up by renewed plant growth in the northern hemisphere, where the bulk of plants grow. Read more…